Delivering best in class PSD to HTML Services
We develop responsive layouts and bootstrap-based projects at Cybit Solutions. We design high fidelity pixel-perfect layouts to give you what you want for your business. In our PSD to HTML conversion service, we add interactive features to your static images. We use the latest technology and software convertors to speed up the process so that we can bring automation at every step.
Using a front-end development framework gives us the leverage to make development easier. Our team of expert front-end and back-end developers know how to decrease the required time frame for the project.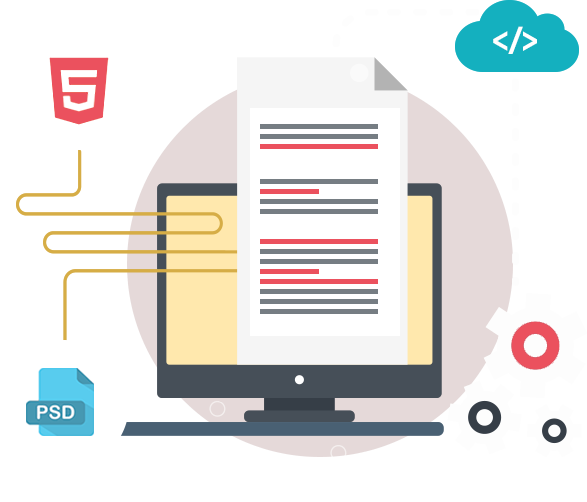 Slicing PSD
Creating Style Files
Responsive Design
Chopping the Photoshop Document (PSD) into smaller pieces helps to load pages faster. It is important to convert PSD to HTML to reduce the time required to download the page. We use various tools for that and use different slicing options such as fixed aspect ratio, normal, fixed size, and many more.
Creating Directories is also a part of our practice to manage the data in an organized way. The next step is writing HTML code with the help of an HTML page builder. The sectioning of code is mostly done from top to bottom.
After getting an HTML shell, styling is done to help you get an attractive layout for your images. Our team of experts adds a pinch of customization in the way you want. Our web developers and graphic designers work collaboratively work to come up with something that exceeds your expectations.
Generating a web design set is the next step after using jQuery and related frameworks. Our professionals are our strength and put extra functionality in creating dynamic layouts for your website.
Creating a responsive web design becomes easy with us. We use different frameworks like Fluid Baseline Grid, Twitter Bootstrap, Less Foundation. Our effective procedure to create PSD responsive to HTML conversion would help maximize the search engine visibility. In this way, the number of organic traffic can be increased.
The multiple services offered at our online platform can change the fate of a business. Ask us for any query, any website design, and get your website developed by experts.